---
The Disadvantages of Breast-feeding (A Satire)
- by Dr. Heinzen Gerber
First appeared in The Compleat Mother in the Fall '88 issue - Reprinted with permission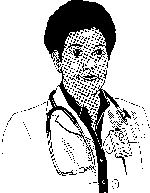 1. Disallows for night waking . . .
Without 2 A.M. mixing marathons the new mother will not appreciate the awesome toll her child is taking upon her. If she merely breast-feeds in bed, half-asleep, she will feel refreshed in the morning, and able to gallivant all day with her friends, child tucked into a hip carrier. Since teachers only get three months off, and executives get long lunches but few fun holidays, it would hardly be fair for all mothers to enjoy life while nobody else does.
2. Stifles research . . .
If North American babies aren't routinely examined for formula-fed illnesses such as really runny poo and blasted barfing, how will the medical community prepare for far greater intestinal upsets, where water is putrid and antibodies are scarce, in the bottle-fed Third World?
3. Disrupts employment . . .
Although it may increase bust size temporarily, breast-feeding is a real nuisance to table dancers (customers will complain of drips and squirts) and bank tellers. Every deposited Baby Bonus will cause a let-down. Members of Parliament will be the only working mothers to benefit since Question Period cameras will naturally focus on the honourable member mothers sneaking a suck instead of the nose-picking back-benchers.
4. Precludes sex . . .
It is well known that coitus is interrupted when baby calls. Often the act must be engaged in repeatedly in an evening instead of the liberation afforded the bottle-feeder; get it over with quick.
5. Denies jobs . . .
From the clerk at the grocery store who charges $0.49 for a tin of 1/4 banana, to the farmer in the field who will reap $20 for the pesticide-sprayed peas and carrots needed to fill 7,889,550 jars of strained veggies, to the flaky naturopaths you engage to explain the general malaise your baby has suffered from the day you introduced commercial baby food, many livelihoods depend on the absence of breast-feeding. Already the shareholders and company presidents are cross with declining sales and record low profits.
6. Success is highly unlikely anyway . . .
So Mary breast-fed Jesus because she was blessed, and maybe the light from her halo gave her extra strength but I mean we haven't even had a Royal Commission or Affirmative Action and here are all these Canadian girls thinking they can support their babies from their breasts without so much as a government grant? It's different with cows; you pump the tail and out squirts the milk. Well, so maybe a few earthy ones can breast-feed but buy the jars anyway, huh? Give it to your granny . . . .
---
RECOMMENDED READING:
• The Womanly Art of Breastfeeding - » Buy US | CA | UK
• Breastfeeding Made Simple: Seven Natural Laws for Nursing Mothers - » Buy US | CA | UK
• The Nursing Mother's Companion, 6th Edition: 25th Anniversary Edition - » Buy US | CA | UK
• The Breastfeeding Book: Everything You Need to Know About Nursing Your Child from Birth Through Weaning - » Buy US | CA | UK
• The Breastfeeding Mother's Guide to Making More Milk - » Buy US | CA | UK
• Ina May's Guide to Breastfeeding - » Buy US | CA | UK
• The Ultimate Breastfeeding Book of Answers » Buy US | CA | UK
---
This article compliments of Born to Love.
---
Other articles that might be of interest:
• Just 27 of the Many Reasons Why Born to Love Supports Breast-feeding!
• Overcoming Difficulties - Michael's Story
• Breast-Milk: The White Blood - Immunicological Benefits Don't Suddenly Stop
• The Disadvantages of Breast-Feeding - (a satire)
• Joshua's Story - The Child Who Could Not Eat!
• OH, Gosh! They Are Debating About ME!
• Low Supply Concerns - Is this a growing modern-day problem?
---
Send questions, comments, and suggestions to: catherine@borntolove.com

Born to Love articles are written by Catherine McDiarmid-Watt
Born to Love is a participant in the Amazon Services LLC Associates Program, an affiliate advertising program designed to provide a means for sites to earn advertising fees.
NOTE: All logos, company names, brands, images, trademarks and other intellectual property are the property of their respective owners.
Born to Love is a participant in the eBay Partner Network, an affiliate advertising program designed to provide a means for sites to earn advertising fees by advertising and linking to eBay.com.
---
Copyright © 1978 - BorntoLove.com - All Rights Reserved.
Last updated - June 24, 2016