---
Diapering Expert Shares Secrets!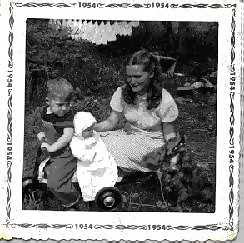 Catherine, as an infant, with her mom and big brother - notice the cloth diapers drying on the line in the background!
I have diapered eleven babies, over 26 years.
Not that I'm that old, or have that many children! Let me explain . . When I was ten, my Mom had twins, Bradley and Bonnie. Being the oldest girl - I was put on diaper-duty, whenever possible.
My older brother, Paul, and I had the chore of hauling the diapers to the laundromat on Saturdays.
Once we would get there, Paul would take off, leaving guess who to unfold all those poopy, smelly diapers into the machine . . . YEECH!!!
I was on diaper-duty again three years later, when Mom had her sixth baby, Lloyd. On all three babies, Mom used flat flannel rectangles she had made herself, fastening them with sharp diaper pins.
We now had our own wringer-washer, and hung them outside to dry. I did grow to appreciate the fresh-air smell of line-dried diapers!
My first son, Jason, was born in 1974, when the only disposable diapers available were Flushabyes® . . . imagine the paper pulp interior padding of today's disposable diapers, minus the plastic backing, elastic, shape or adhesive tapes. You guessed it . . . a giant old-fashioned Kotex® pad!
They had to be fastened with pins, covered with plastic pants, and they shredded immediately once wet.
NO THANKS, I thought, cotton diapers only for MY precious bundle.
After six weeks of Toronto's Stork Diaper service, I bought three dozen Curity® stretch gauze diapers and diaper pins. I washed my diapers in a small spin-dry washer, and hung them outside to dry on my apartment balcony.
I loved the way these stretch diapers fit - a nice improvement over Mom's flannelette rectangles!
Pampers® were all the rage by the time my second son, Michael, was born in 1977. He was diapered in these during our hospital stay - eleven days due to jaundice.
Still no elastic or shape. But with the addition of a plastic backing and adhesive tapes, they seemed improved enough to try for a couple of months.
A persistent, raw-looking diaper rash on Michael's bottom proved to be a reaction to the plastic, chemicals and perfumes in the disposable diaper he was wearing.
I tried switching to the other disposable diaper on the market, Baby Scott® (by Kimberley-Clark®). A paper pulp pad fitted inside a separate snap-on vinyl pant.
Still Michael reacted! So I bought another two dozen Curity® stretch gauze diapers to replace my worn ones, and started diaper-washing again.
With an apartment-sized washer and dryer (bought with the money I saved by breast-feeding!) . . . the job was over in no time!
Because of his allergy to plastics, I covered Michael's cloth diapers with Down-Under hand-knitted soakers when he was small. When he got older I discovered BabySnibbs® tie-on pants.
With minimal vinyl touching his skin, and no elastic to stop the air-flow . . . he was rash-free (and my lap was finally dry!)
Both before and after my two sons were born, I did child-care in my home for five baby girls (just one baby at a time!) . . . Sophia, Josie and Danielle before Jason was born. Carla and Nicole after Michael started Kindergarten.
The babies' mothers brought an assortment of flannel squares, prefolded cloth, Baby Scott®, Pampers®, Huggies®, Luvs® and some no-name disposable diapers.
How I Diapered in the 90's
In 1988 my third son, Joshua, was born. Home just three hours after an emergency transport to the hospital, I diapered him in prefolds from the Comfy Cotton diaper service. (A great idea for at least the first six weeks - I got so spoilt I didn't cancel until Josh was 17 months old!)
I now had quite a selection of diapers, most given to me by friends.
A dozen Curity® stretch gauze, a dozen Snugabye® flannel squares (great folded inside another diaper for double diapering!), a dozen Australian terrycloth squares (the greatest absorbency I have found), a dozen super-absorbent pre-folds (home-made from all those extra receiving blankets - pretty printed diapers!), a few Babykins fitted diapers and home-sewn Sweethearts (now called Baby Softwear®). I fasten them all with Di-D-Klips (what a fabulous invention!!!)
I covered them with 100% cotton Nikkys during the day to help with diaper rash. Babykins nylon pull-on pants for night - since he slept with me in our family bed, a dry bed was top priority to me!
I carried BabySnibbs tie-pants in my diaper bag for emergencies, and tested out a Bundles of Love waterproof pant that I found just delightful!
The Dump and Wash Method
I now had a full-size washer and dryer, and washed diapers two dozen a load . . . about twice a week. Wet diapers went straight into the diaper pail. Soiled ones were rinsed in the toilet. (I wrung them out by hand, and just washed well after, but a Diaper Duck works well and saves your hands.)
Joshua was breast-fed, so his stools were most often runny, so if it was just a small stain on the diaper, I didn't bother rinsing. I didn't use any water or solution in my diaper pail since it was a pain to dump before washing, and it weakens the fibres of the diapers. I found with the addition of a diaper pail deodoriser in the pail, and breast-feeding . . . I had no problems with odours!
To wash the diapers, I ran them through the pre-soak setting on my washer to remove excess urine and un-rinsed stains. Then I filled the machine with HOT water, adding soap and 1/2 cup of washing soda (i.e. Arm and Hammer®, borax, etc.) and COLD rinse.
If Joshua was having problems with rashes I would run the diapers through a second rinse with a cup of vinegar.
Then, after the washer had done it's job, I would toss the diapers into the dryer for about sixty minutes. I didn't use any fabric softener, mainly because my family is allergic to it. But also because fabric softener causes a waxy build-up on the diapers, reducing the absorbency . . . even making the diapers water-repellent.
I liked to fold my diapers, and stored them in a diaper stacker near my change area. But if you don't have time for that, clean diapers can be left in the laundry basket till needed.
What Was My Favourite?
Personally, I loved my home-made prefold diapers, Di-D-Klips and cotton Nikkys.
But my older sons, Jason and Michael, preferred the Velcro®-type fitted diapers for quick and easy diaper changes.
And my baby sister, Bonnie . . . she was expecting her first baby in 1990! She thought the all-in-one Bumkins® diapers were fabulous, but settled for the heavy-duty absorbency of T's for Tots fitted terry-cloth diapers.
As I've said before, the best diaper choice for your baby is very personal.
Drowning in Diaper Samples . . .
In researching which diapers to include in my Born to Love catalogue, Joshua and I were drowning in diaper samples, from across Canada and the US. I have reviewed all types and styles of diapers, often designed by moms (just like yourself) for their own babies. Everything from the simplicity of Kim's shaped diapers to Dr. Mike's All-in-One polyester diapers (at $20.00 a diaper!!).
It was a very tough decision, but I feel the diapers I have chosen to carry are a good representation of each kind of cotton diaper available on the Canadian market today.
The Bare Facts
You might think that using cotton diapers is old-fashioned. Or that using disposable diapers is better for your baby, and more convenient for you.
I believe you deserve to have the facts. Did you know cotton diapers provide greater comfort and excellent absorbency? That's because cotton draws moisture away from your baby's skin . . . allowing air to circulate . . . so your baby stays drier! As well, cotton diapers are far less irritating to your baby's tender skin. Most pediatricians recommend cotton diapers to prevent common diaper rash. And to protect the sensitive skin of your baby.
Now think about these synthetic disposable diaper facts...
• Plastic and paper diapers have been proven to be less comfortable, since they rub against your baby's skin and can bind.
• They don't give like cotton does. Diaper rash can be caused by the plastic, chemicals or the wet paper pulp shredding, wadding and falling apart.
• There is no easy way to dispose of these disposable diapers properly and safely. And they pose serious health problems for our environment.
• Babies have been known to remove their disposable diaper. Fun for baby . . . but not for mom!
• And more than a few babies have experienced choking and suffocation from the plastic and paper from their disposable diaper.
Your Bottom Dollar
Why are some of these cloth diapers so expensive?!?
If you are thinking of a diaper as nothing more than a disposable waste container, you might not be willing to spend more than 25 cents for it.
But if you think of a diaper as a high-quality, effective, comfortable, convenient-to-apply-and-remove garment which your baby will probably wear over 200 times, you would be willing to pay more!
Compare the economics of using these diapers, to the cute little newborn outfit Aunt Sally was going to pay $25.00 for, and your baby might only wear once before it's out-grown!
Since diapering is one of the major expenses of caring for your baby, cost is an important factor.
Purchasing three dozen fitted diapers may cost you about $200-$300 more than a supply of flannelette squares.
But this extra cost buys convenience for you and a comfortable, snug fit for your baby. To be enjoyed through up to 6,000 diaper changes. Why . . . that's less than 5 cents per diaper change!
Why, you may ask, are these diapers priced so low?!?
Still Have Questions?
Write to me with your questions, experiences, diaper secrets, diapers you've invented, and pictures of your happy cotton diapered baby.
If my 26 years of diapering experience dates me, that's a compliment. Because every year that goes by I've been doing what I believe in. I can't think of a better way to help your baby feel comfortable, safe and loved . . . than to offer you both a natural, caring alternative in diapering.
So, It's Up to You!
A month from today, you will have lugged home two JUMBO-sized packages of disposable diapers, making you over $60.00 poorer . . . or you can be diapering your happy baby in soft, comfortable cotton.
YOU DECIDE...
---
This article compliments of Born to Love.
---
The Diaper Facts column:
• How Do I Get Started With Cloth Diapering?
• Cloth Diapering With A Diaper Service
• How Do I Wash Cloth Diapers?
• Expensive to Wash Cloth Diapers?
• The STINK on Stinky Diapers
• Why are my cloth diapers and covers stinky?
• Here's my Stinky Diaper Solution!
• Why are my cloth diapers and/or diaper covers leaking?!?
• How Do I Make My Diaper Covers Last?
Other articles that might be of interest:
• How to Choose the Perfect Cloth Diapering System
• Feeling Confused About Your Cloth Diapering Decision?
• Diapering Expert Shares Secrets!
• Do Cloth Diapers Seem Too Expensive?
• Frugal Diaper Washing
• Frugal Diapering
• Frugal Baby Tips: Make Your Own Baby Bum Sweaters!
• Your Choice Does Make a Difference!
• What's Wrong With 'Disposable' Single-Use Diapers?
• Environmental Concerns - What Do They Mean For You and Your Baby?
• Environmental Concerns II - Looking at Both Sides of the Issue
---
Send questions, comments, and suggestions to: catherine@borntolove.com

Born to Love articles are written by Catherine McDiarmid-Watt
Born to Love is a participant in the Amazon Services LLC Associates Program, an affiliate advertising program designed to provide a means for sites to earn advertising fees.
NOTE: All logos, company names, brands, images, trademarks and other intellectual property are the property of their respective owners.
Born to Love is a participant in the eBay Partner Network, an affiliate advertising program designed to provide a means for sites to earn advertising fees by advertising and linking to eBay.com.
---
Copyright © 1978 - BorntoLove.com - All Rights Reserved.
Last updated - February 8, 2017