---
Make Your Own Rebozo Sling Pattern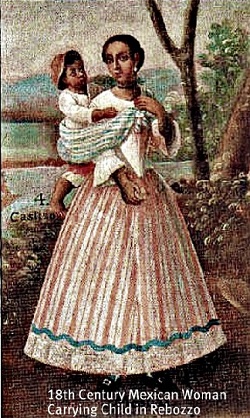 Mexican Rebozo in use
Rebozo is a Mexican word for the shawl that is a woman's constant companion - day and night. This shawl was commonly used to carry babies on mother's back. The fabric is simply tied in a knot, and placed around the mother's body. An amazing tool, a Rebozo provides your baby with a safe and secure place, while participating in life with mom and dad.
So simple, yet so elegant!
Now you can make your own!
First, pick out a suitable fabric. Look for a gorgeous print that you love, in a resilient and breathable cotton, silk or wool. It should be strong enough to hold your baby's weight, but still allow air circulation for when baby is all bundled up. If you aren't sure, place it over your mouth and breath through the fabric!
You will need 2 7/8 yards (100") or 2.54 meters (254 cm) of fabric at least 29" (73.7 cm) wide. Fold your fabric over lengthwise, then measure and mark your fabric into thirds along the length. You should have three equal sections of about 33.3" (84.6 cm) long each.
Next measure out the width at 14.5" (36.8 cm) in the middle third, and mark straight across the open side, parallel to the fold, with a pencil or piece of chalk. On the other two thirds, measure 12" (30.4 cm) from the fold, and draw a tapered line from the middle third to the outer measurement at each end. You can do a straight line, or a slightly curved line.
Pin the fabric together so that it doesn't move about, and cut along your marked line. This leaves you with a 1/2" (12.7 cm) border for hemming. Fold in the raw edge 1/4" (6.4 cm), then again another 1/4" (6.4 cm) and stitch.
For an quick Rebozo trim, open up your fabric and simply add 10" (25.4 cm) of ready-made fringe at each end.
| | | |
| --- | --- | --- |
| 1. Measure and mark your fabric into thirds | 2. Draw a tapered line from the middle third to each end | 3. For a quick Rebozo trim, add 10 inches of fringe |
For a Real Authentic Rebozo Look:
Mexican Rebozos are highly valued for the artistry that goes into this fringe. The expense and prestige of the Rebozo increases with the time put into the fringe. The best Rebozos have hearts, stars, ducks, donkeys and other geometric patterns knotted into the fringe. Some have been embroidered with rural scenes flowers and animals, stories, religious experiences, to name a few. For those adventurous souls, you can even dye your own fabric, using natural dyes of green walnuts, indigo, iron, molasses and cochineal.
You will need 3 1/3 yards (120") or 3.04 metres (304 cm) of fabric. Before marking your Rebozo in thirds, mark off 10" (25.4 cm) for the fringe, at each end. Now follow the instructions above, within these two lines.
Open up your fabric and sew two rows of stitching 1/4" (6.5 cm) apart, across the width at the 10" (25.4 cm) mark to reinforce it.
Pull out the weft threads, which are the ones that form the cross-wise grain of the fabric, up to the 10" (25.4 cm) mark.
Secure these newly released warp threads artistically, by tying, macrame, beading, etc.
It is said that the beauty of a Mexican woman is to be judged by her braids and her Rebozo.2
For Best Results:
• Buy extra fabric to compensate for shrinkage and the fact that most fabric isn't cut straight. Cut it down to measure yourself.
• Straighten the grain before sewing by pulling on diagonally opposite corners of the fabric.
• Pre shrink your fabric before cutting.
How to Use a Rebozo:
• Photobucket Rebozo videos
• YouTube Rebozo videos
• Sling Instructions with pictures
Acknowlegements:
Parts of our article were taken from (1)How to Sew Your Own Rebozo Sling © 1995, and (2)History of the Rebozo, used with permission. The Rebozo Way Project is an educational project that teaches about traditional babywearing, in-arms and attachment parenting, and traditional ways of birthing and family and community relationships. You can learn more by visiting Nurturing Across Cultures.
Want to read more Frugal Baby tips?
Check out our Frugal Baby Tips blog.
---
Recommended Reading and DVD:
♦ The Value of Baby Carriers in Today's Society (Born to Love article)
♦ Baby Buying Guide: Slings, Wraps, Carriers & Backpacks (Born to Love article)
♦ Babywearing: The Benefits and Beauty of This Ancient Tradition by Mary Blois - » Buy US | CA | UK
♦ What Can You Do With a Rebozo? » Buy US | CA | UK
♦ Tummy 2 Tummy The Babywearing Instructional DVD » Buy US | CA | UK
SUGGESTED PRODUCTS:
• Moby Wrap Original » Buy US | CA | UK
• Dolcino Organic Baby Carrier » Buy US | CA | UK
• Didymos Baby Carrier » Buy US | CA | UK
• Sleepy Wrap Classic Wrap Baby Carrier » Buy US | CA | UK
• Boba Wrap Baby Carrier » Buy US | CA | UK
---
This article compliments of Born to Love.
---
Other articles that might be of interest:
• Frugal Baby Tips Index
• Frugal Diapering
• Frugal Diaper Washing
• Frugal Diaper Rash and Baby Wipe Tips
• Make Your Own Baby Bum Sweaters!
• Let Sleeping Babies Lie - please...
• Frugal Safety Tips
• Frugal Toys and Playthings Tips
• Frugal Baby and Mom Clothing Tips
• Frugal On the Go! Travel Tips
• Frugal Miscellaneous Tips
• Make Your Own Rebozo Sling
• Stacking Tactile Toys and Healing Post-partum Stitches
• Mosquito Bites Relief and Frugal Cloth Menstrual Pads
• Absorbent Cheap Diapers and Protect Your Computer!
• Bedwetter Pants and Soothing Breast Pads
• Breathable Diaper Covers and Reusable Tampons
• Frugal Tips From My Readers!
---
Send questions, comments, and suggestions to: catherine@borntolove.com

Born to Love articles are written by Catherine McDiarmid-Watt
Born to Love is a participant in the Amazon Services LLC Associates Program, an affiliate advertising program designed to provide a means for sites to earn advertising fees.
NOTE: All logos, company names, brands, images, trademarks and other intellectual property are the property of their respective owners.
Born to Love is a participant in the eBay Partner Network, an affiliate advertising program designed to provide a means for sites to earn advertising fees by advertising and linking to eBay.com.
---
Copyright © 1978 - BorntoLove.com - All Rights Reserved.
Last updated - February 3, 2016