Search BorntoLove.com
ARTICLES
COMMUNITY
CUSTOMER SERVICE
Home

Catalogue Index

Mom Needs Index

BTL Menstrual Pads
---
INDEX : Menstrual Information, Natural Sea-Silk Sponges, The Keeper, The DivaCup, BTL Cloth Menstrual Pads, Mama Hemp Menstrual Pads, Bravado Nursing bras, Decent Exposures bras.
---
BTL Cloth Menstrual Pads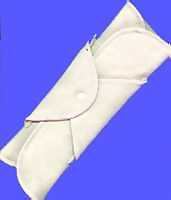 Mom, how about you!? Kick your "disposable" habit!! Today's natural and responsible choice for feminine protection is washable, reusable cloth menstrual pads. An environmentally-safe, economical alternative!

Belt-less, snap-fastened, long and thick enough for excellent menstrual, post-partum or incontinence protection. Two soft and comfortable layers of either 100% cotton printed flannelette or 100% cotton fleece. In between is one absorbent layer of 100% cotton terry cloth. With a special fold and snap, this 3" by 9" (washed size) pad protects you with a total of six layers of fleece or flannel, plus three more layers of terry! Yet it quickly opens again for thorough cleaning and quick drying. These pads are all most women need for their menstrual cycle. A 12 pack is a great way to start!

Need more protection due to heavy periods or moderate incontinence? Our PostPartum pads are 3" by 13" (washed size). We also have flannelette menstrual doublers (washed size - 3.5" x 9"), breathable poly-fleece liners or waterproof nylon liners, topped with a non-slip poly-mesh layer. Just slip between your pad and your panties - for complete protection!

Save our trees... and enjoy safe, chemical-free protection, with incredibly s-o-f-t comfort. Gentle on healing stitches after birth. You'll never go back to paper and pulp again! Canadian WAHM-designed - exclusive to Born to Love! Click this link to learn how to use our pads!

Click for larger view!

Sample Menstrual Pack - One flannelette pad, cotton fleece pad, menstrual doubler, fleece liner and nylon liner.
Cozy 100% cotton flannelette menstrual pads - Assorted prints in economical Pastels or high-quality Brights.
Wonderful 100% cotton fleece menstrual pads - So soft and comfortable. White or natural.
Menstrual doublers - Boost up your absorbency, or use as lite-day pads! White.
PostPartum pads in 100% cotton flannelette - Assorted prints in high-quality Brights.
Poly-Fleece Menstrual Liners - For leak-proof protection and breathability, double up for excellent heavy-duty protection!
Menstrual Nylon Liner w/Poly-Mesh - More leak-proof protection in a breathable nylon. White.
Laundry Bag - After use, simply rinse out your pad and store in this zippered mesh laundry bag till wash day. Then just toss the whole thing in the washing machine! SIZE: 11.5" by 15.5". White.


Sorry, this item is out-of-stock.
---
---
Send questions, comments, and suggestions to: catherine@borntolove.com

Born to Love articles are written by Catherine McDiarmid-Watt
Born to Love is a participant in the Amazon Services LLC Associates Program, an affiliate advertising program designed to provide a means for sites to earn advertising fees.
NOTE: All logos, company names, brands, images, trademarks and other intellectual property are the property of their respective owners.
Born to Love is a participant in the eBay Partner Network, an affiliate advertising program designed to provide a means for sites to earn advertising fees by advertising and linking to eBay.com.
---
Copyright © 1978 - BorntoLove.com - All Rights Reserved.
Last updated - February 8, 2017